Maid Name
NUR HIDAYAHTUL ROHMAH
Date of Birth
12/12/1995 (age: 24 yrs)
Height/Weight
150 cm / 44 kg
Education
High School (10~12 yrs)
Language Skill
English (Poor, 0 yrs)
Bahasa Indonesia/Malaysia (Excellent, 0 yrs)
Preference/Aptitude
& Experience
| | | |
| --- | --- | --- |
| Care for Infant/Children | | - |
| Care for Elderly | | - |
| Care for Disabled | | - |
| General Housework | | - |
| Cooking | | - |
Other Information
| | |
| --- | --- |
| Able to handle pork? | |
| Able to eat pork? | |
| Able to handle beef? | |
| Able to care dog/cat? | |
| Able to do gardening work? | |
| Able to do simple sewing? | |
| Willing to wash car? | |
Maid Introduction
Personality:
She is a quiet and hardworking helper who follows employer instruction.
She is willing to take care of infant, children and elderly.
Experience:
She had 3 years (2014 to 2017) experience in Malang, Indonesia. Working for a Javanese (maam) + Chinese (Sir) family with a 12 years old child. Living in a one storey house. Maam & Sir owns a clothing shop. She did housework and takes care of the shop.
She is able to cook soto, fried rice, lodeh
She is able to converse in basic English.
Additional Info:
She is aware of not using handphone during work.
She request no off day
Employment Care Consultancy Pte Ltd
License: 11C4019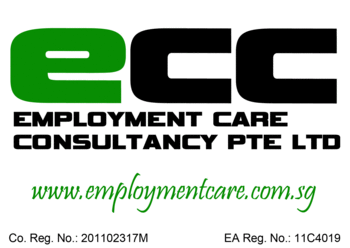 Last updated on 2019-12-03 09:51:12 +0800