Date of Birth
29/12/1983 (age: 35 yrs)
Height/Weight
155 cm / 70 kg
Education
High School (10~12 yrs)
Language Skill
English (Poor, 0 yrs)
Bahasa Indonesia/Malaysia (Excellent, 0 yrs)
Preference/Aptitude
& Experience
| | | |
| --- | --- | --- |
| Care for Infant/Children | | - |
| Care for Elderly | | - |
| Care for Disabled | | - |
| General Housework | | - |
| Cooking | | - |
Other Information
| | |
| --- | --- |
| Able to handle pork? | |
| Able to eat pork? | |
| Able to handle beef? | |
| Able to care dog/cat? | |
| Able to do gardening work? | |
| Able to do simple sewing? | |
| Willing to wash car? | |
Maid Introduction
Personality:
She is a diligent and quiet helper who follows employer instruction.
She is willing to take care of infant, children and elderly.
Experience:
She had 2 years (2017 to 2019) experience in Singapora. Working for a Malay family consisting of grandma and a single working son aged 70 years old. Living in a HDB flat. Grandma required asistance to get out of bed, walks with a walker, put on clothes and bathing. She did housework, cooking and taking care of the grandma.
She left her last employment in February 2019
She is able to cook asam pedas, sambal tumis sotong, lemak cili padi, sotong hitam, masak pindang
She is able to converse in basic English.
Employment Care Consultancy Pte Ltd
License: 11C4019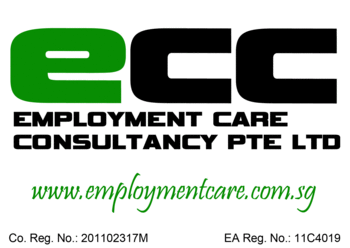 Last updated on 2019-11-21 16:57:14 +0800